Making Precision Plastic Components with Custom Blow Molding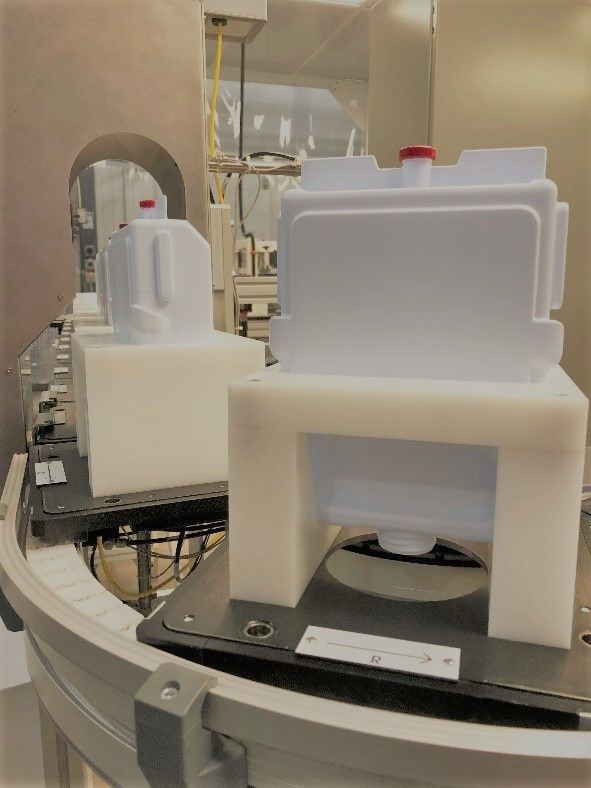 If you're curious as to how plastic bottles and containers are manufactured with hollow interiors, the answer is custom blow molding. At Currier Plastics, we've revolutionized the manufacturing process with both injection molding and blow molding in one facility, creating a streamlined outcome for our customers.
Blow molding is a specialized plastic injection molding process utilized by manufacturers to create products with hollow interiors. The molding professionals at Currier Plastics offer several different types of blow molding that process different materials and various geometries, including:
Extrusion blow molding (EBM) – where air is injected into the container inside the mold to create the product.
Injection stretch blow molding (ISBM) – where a preform is produced and manufactured using rotational symmetry.
Injection blow molding (IBM) – where a hollow, thermoplastic preform is inflated inside a closed mold, making the shape conform to the mold cavity.
Through these processes, Currier is able to manufacture plastic bottles and hollow containers for a wide range of industries.
How Design for Manufacturing is Utilized for Custom Blow Molding
The Design for Manufacturing (DFM) team kicks off the development process when initiating a new product application. When creating a new, custom blow molded product for a customer, the DFM team starts off by obtaining a solid understanding of the customers' expectations before defining and documenting what they are looking for. Once they understand what the application needs are, the DFM team will:
Identify risk factors associated with the customers part design to ensure manufacturability
Design and develop processes to ensure success of qualification requirements (gauge R&R, FAI, IQ, OQ, PQ)
Review the specs against the proposal to make sure everything stays within the budgetary and timeline requirements
The key to making high-quality, custom blow molded products exactly to the customers' specifications is ensuring our DFM process is optimized to their precise needs. Currier's focus on customer service, flexibility and quality through the DFM process is what sets us apart from other custom blow molding manufacturers.
Components Made with Custom Blow Molding
Currier can manufacture a wide range of products with custom blow molding, and for each one we ensure they are made to the highest possible standards no matter the industry. Some bottle products we've made for customers in the past include:
Centrifuge bottles
Reagent bottles
Personal care bottles
Multi-neck bottles
Large cavitation small bottles
Single-use bioprocessing containers
Vials
Sample collection tubes
And more
Whether we're customizing bottles for a medical clinic, or for a food & beverage production facility, Currier can create them to exact specifications, made with the highest-quality material and within budget.
What Materials are Used in Blow Molding?
When blow molding products for certain applications, it's important to understand and apply the appropriate materials. Going through the proper material selection process is necessary when determining which material applies best for a specific purpose. While some types of plastic bottles or containers need to be more heat resistant, others may require greater impact strength.
Some of the materials Currier Plastics commonly uses for custom blow molding include:
HDPE
PVC
PET
PP
Tritan
COC
Copolyester
Other materials, depending on the application
At Currier, we include our resin distributor partners early in the material selection process and rely on previous experience in materials for different applications. Whether that is understanding what the materials will do in the blow molding process or undergoing full chemical capability study, our customers will always know they are getting the best quality products made by people who care.
Sustainability in Custom Blow Molding
Using recycled or eco-friendly plastic resin is as important to Currier as it is to our customers, and we make sure to always use sustainable measures when custom blow molding all our products. We utilize regrind for many products we manufacture, and some of our vendors require parts to be manufactured with at least 25% Post-Consumer Regrind (PCR). We also try to use all EBM moil and tail scrap, as well as biodegradable additives on certain products so as to make them more eco-friendly.
High-Quality Plastic Components Made by The Best
The Currier facility has 26 blow molding machines that produce an average of 1.2 million pounds of plastic annually. Our facility offers Injection Stretch Blow Molding (ISBM) and Injection Blow Molding (IBM), as well as Continuous Extrusion Blow Molding (EBM) processed in a Class 8 facility. Our customers utilize these molding processes from Currier when in need of consistent repeatable plastic products made with quality and precision.
Currier Plastics is a dynamic solutions provider utilizing DFM in our expanding, all-in-one custom injection molding and blow molding facility. We constantly strive to provide an environment that allows our customers to know they are getting the best possible product made with precision and expertise.
To learn more about Currier Plastics' custom blow molding and injection molding capabilities under one roof, contact one of our reps today!