WHAT WE DO
Currier Plastics provides innovative custom molding solutions that create powerful advantages for your business.
Our design and engineering expertise combined with the right cost and precise time to market manufacturing provide integrated solutions to improve your business performance.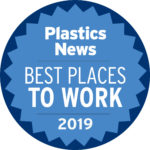 Currier Plastics has been recognized by Plastics News as one of the Best Places to Work in 2019!
From personal care to food and beverage, Currier Plastics covers everything from design through delivery with an unrivaled assurance of quality. Our developing expertise in the healthcare market is an extension of this commitment to people and the clients who serve them.
Currier Plastics Quality  uses advanced equipment, statistical analysis and precise traceability of products with a strict performance standard of zero defects in our blow and injection molding processes. This is especially important for in vitro diagnostics, where products must be consistent, clean, and biocompatible every time without exception.
Our unique ability to design and manufacture both containers and closures in one facility gives all of our customers the all-important advantage of both speed and perfection. We also work efficiently with a process that cuts cost without compromising your reputation.
Visit us at our upcoming trade shows.