Quality Injection Molding Leads to Better Products
At Currier, we make sure to employ the highest standards of safety, quality, and precision in our plastic injection molding processes. Manufacturers from all over the world see our quality work firsthand – in our products, presses, services, and even in our one-of-a-kind facility. Currier manufactures injection molded components for big growth markets, such as healthcare, food & beverage, packaging, and more. The wide range of products we create are used for a variety of mission critical purposes.
Automation and Metal-to-Plastic Conversion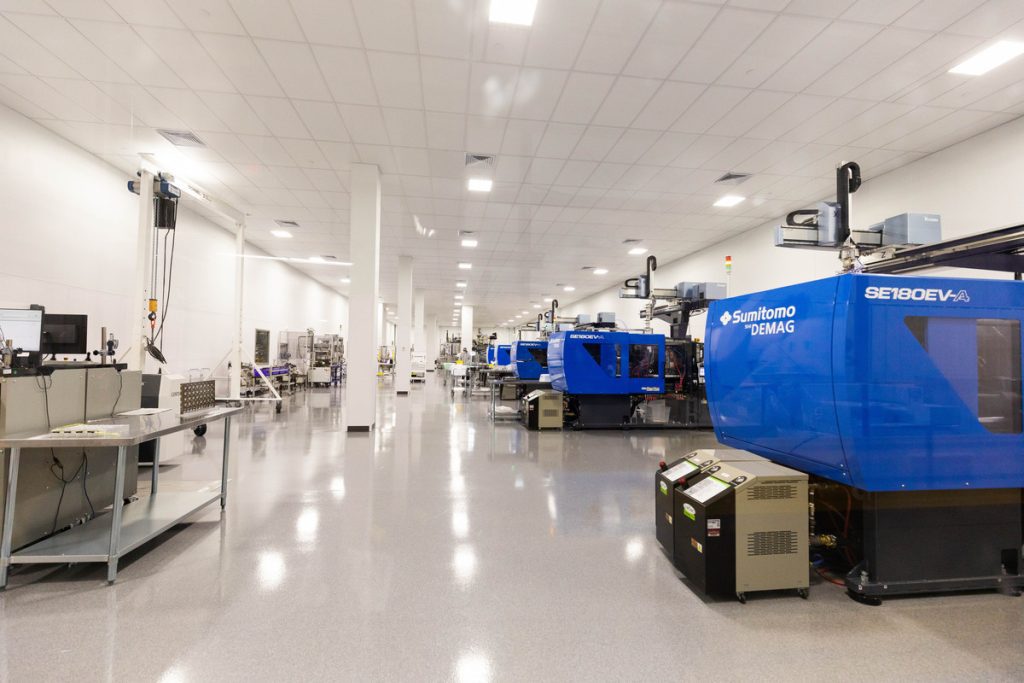 Currier sets the standard for consistency and quality with all the components we produce. Our integral high-speed robots and automation make injection molding processes more stable, leading to higher quality parts.
Some noteworthy products Currier has manufactured in the past include:
13mm Foil Lined Closures
PCR Tube & Closures
Stool Extraction Device
Surface Testing Swab Assembly
Assembly handles
Bulk Amenities Dispenser Brackets
In addition to our injection molding services, we also offer metal-to-plastic conversion. Our team of experts works together to review existing metal parts, conceptualize models, and 3D print hands-on examples and refined iterations.
Some of the components we've manufactured with metal-to-plastic conversion include:
Bulk dispensing wall brackets
QA fixturing (printed parts)
In-Process check fixtures (Magna-Mic cradles)
High-Quality Presses for Expertly Crafted Parts
Quality products come from quality presses, and the team at Currier knows how important it is to maintain our equipment. With 38 presses currently in our New York facility, we plan on expanding with more presses for our new 25,000 sq. ft clean room. We utilize only the best 50T to 500T Sumitomo and Niigata machines.
Sumitomo – Currier's Sumitomo injection molding machines are state-of-the-art HSZ and EV series. These presses are all electric and designed to be more energy efficient, provide a cleaner molding environment, and be more precise at higher speeds and pressures.
Niigata – The Niigata plastic injection molding machines at Currier feature high-quality technology, improved efficiency, and high productivity over other molding presses.
In addition to our high-quality presses, Currier consistently invests in new technology and value-added services for our injection molding processes, such as:
Robotic pick & place systems integrated with closing stations
Vision inspections
Assembly leak testing
Secondary automation
Hot runner systems
No matter what products your business needs manufactured, the team at Currier has the experience and technology to get them made to your exact specifications.
A One Stop Shop for Injection Molding and Blow Molding Services
Unlike most manufacturers, Currier offers both injection molding and blow molding services in our unique, state-of-the-art facility. With these capabilities, we can produce products that require secondary value-added services, like installing a suction tube into a cartridge, or adding a stopper and a crimp, or even a bottle and a cap.
At Currier, we are always looking for opportunities that are out-of-the-box and help customers see the full range of our capabilities. We offer a wide range of processes and services so customers know we can effectively manufacture injection molded components for their exact market.
Our expert processes include:
Optimized cycle times
Maximized cavitation
Automated cells to reduce labor
Scientific injection molding (SIM)
Production metrics including real time reporting
Mold maintenance including in-house tooling capability
ISO class 8 certified cleanroom
Prototyping
Continuous improvement
3D printing capabilities
Expert Plastic Molding Processes for Your Industry
Based in Auburn, New York, Currier offers all-in-one injection molding and blow molding with the unique approach of having a certified clean room with both capabilities. Driven by a true quest for perfection, Currier applies customized solutions using design for manufacturing from a team of degreed plastics engineers and professionals. Our proven success in a wide range of relevant growth markets showcases our passion for injection molding, which is shown through our hard work, quality products, and expert customer service.
Interested in learning more about Currier's injection molding capabilities? Contact our team today to start a conversation.