Currier Recognized with Developmental Partner Award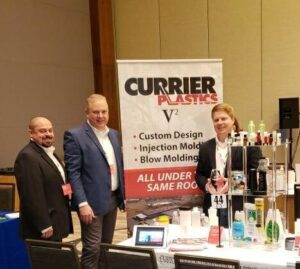 San Antonio, TX  Currier Plastics was recognized as a 2019 TricorBraun Supplier Partner receiving one of the Developmental Partner Awards at TricorBraun's 2020 Annual Sales Meeting & Supplier Showcase.
"Our supplier partners are essential to helping us meet our customers' needs, so it's important that we recognize the best of the best and celebrate our joint success," said Mark O'Bryan, chief operations officer, TricorBraun. "Together, we create opportunities to grow our businesses while delivering world-class packaging solutions."
TricorBraun's Design & Engineering team chose Currier Plastics for this award because of the team collaboration that begins at the design concept phase and continues through production and which ultimately guarantees success.
About TricorBraun:
Founded in 1902, TricorBraun is North America's largest distributor of primary packaging and a portfolio company of AEA Investors. The company provides innovative solutions across a wide array of customer end markets in plastic and glass containers, closures, dispensers, tubes and flexibles. TricorBraun operates from 50 locations globally. Our award-winning Design & Engineering Center provides forward-thinking design, driven by consumer insight and creative solutions. Other services include global sourcing, manufacturing oversight and global supply chain programs. www.TricorBraun.com 
About Currier Plastics:
Since 1982, Currier Plastics has been leading the industry in custom plastics molding solutions for markets including medical, personal care, packaging and amenities. We provide our clients with unparalleled communication and project management with our total control approach to form, fit and function for the complete package. Our capabilities include design for manufacturability, injection molding and blow molding with a one team approach providing focus on the quality.  Based in the USA in Auburn, New York. ISO 13485, FDA registered, ISO Class 8 Cleanroom. www.CurrierPlastics.com