Supporting The 1st Conference of It's Kind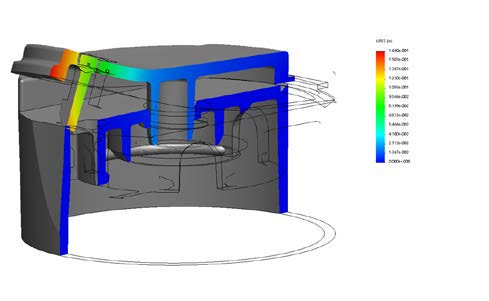 Auburn, NY Currier Plastics' Sriraj Patel and Steve Faes are co-chair and presenter at the 1st annual injection molding technical conference of Society of Plastics Engineers (SPE) to be held in August 2017 in Oak Brook, Illinois.
Patel, Director of Research and Development at Currier since 2015, is the co-chair for the Precision Molding Machinery & Process Control session. Faes, Senior Product Development Engineer at Currier Plastics for the past three and a half years, is one of the featured presenters. Faes presentation will be on the benefits of using simulation results for plastic injection molded part design. Faes has proven that in the instance of a flip top snap cap, utilizing the simulation results made it possible to achieve a more ergonomic lift open force and to improve the operation of the energy in the hinge. The goal is to show how the results can be used by engineers and designers to quickly optimize their designs to achieve desired results.
"Through research and development we continuously strive to vertically grow by increasing our value-added services," adds Ron Ringleben, VP of Business Development at the custom molder. "By exploring and adapting new technology, we enable ourselves to attract new business models with a goal of maximizing opportunities and recognizing and reducing risks for our healthcare partners – a win-win for everyone."
About Currier Plastics, Inc:
For over 35 years, Currier Plastics, Inc. has been leading the industry in custom plastics molding for markets including medical, personal care, and amenities. We provide our clients with unparalleled communication and project management with our total control approach to form, fit and function for the complete package. Our capabilities include design for manufacturability, injection molding and blow molding with a one team approach providing focus on the quality of your products. Based in the USA with a 128,000 square foot facility in Auburn, New York. www.CurrierPlastics.com
About Society of Plastic Engineers
SPE is the leading technical society for the global plastics industry. It is a community of individuals involved in the technical and commercial aspects of the plastics and polymer industry. It is a place where individuals can interact, learn and develop skills to meet their personal and professional goals. This community fosters technical innovation and industry competitiveness through scientific development and commercialization.
With over 22,500+ members from 84 different countries, SPE is the largest, most well-known plastics professional society in the world. Celebrating our 75th anniversary in 2017, we are the "go to" place for technical information, training, networking and knowledge sharing for plastics professionals who want to advance their knowledge and their careers. www.4spe.org