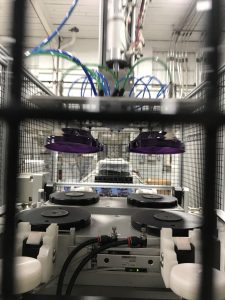 Currier Plastics has implemented state-of-the art injection molding equipment with full Statistical Process Control (SPC) capabilities. This investment in technology provides higher-quality parts along with lower prices and tighter specifications for our customers.
Our injection molding facility offers equipment ranging from 44- to 500-ton clamping pressure. This department has incorporated automation throughout the equipment spectrum. We have engineered several methods for living hinge applications (like dispensing closures and lids), including in-mold and end of arm robotic systems. These processes give our customers flexibility when determining both annual capacity and targeted costs.
Currier Plastics is also experienced in processing a full range of specialty-engineered thermoplastics to optimize our customers' plastic design requirements in all industries, including healthcare, personal care, food and beverage, electronics, and packaging. These engineered resins include high-temperature and filled materials incorporating glass, minerals, carbon, and metals.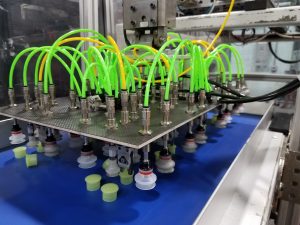 The injection molding group also specializes in metal-to-plastic conversion. By replacing metal with high performance composite plastics, our customers can significantly reduce the cost and weight of many parts.
Full strength and functional specifications are maintained or exceeded, and the plastic part requires fewer finishing operations. Insert molding is another service this department offers to reduce cycle time and cost by molding plastic around metal components, thereby eliminating a step in the assembly chain.
Vision Inspection allows our engineers to measure small features which are difficult or impossible to measure with a touch probe. Complex vision tools let you capture many data points at once as opposed to touch probe CMMs, which measure one point at a time. The result is a faster and more statistically accurate measurement machine.
View Automotive Retail Case Study 214 Vent Clip +
---